[Introductory Note: I am the terror that flaps in the night... I am the wrong number that wakes you at 3 a.m. ... I am the Occasional sTroll! And today, we will be examining the strengths and weaknesses of our opponents in a light-hearted but poignant manner. Yes, we admit that this series is based a parody of a weekly series from sister site Wide Right Natty Lite. No, we don't care. As the wise Turk once said: "Ah, you know I do what I do what I do what I do."]
Sorry, Ok State fans, but the sTroll is bringing the venom this week. We Kansas fans have put up with your shenanigans for too long, and it's time to settle the score. (P.S. Don't worry about any general jabs at your state and its residents... We will save those for your flagship university at the end of the season.) So, without further ado, let's shoot down the Cowboys!
The Color Orange
As discussed in the Mock against Texas, orange is a really difficult for most people to wear and color-coordinate. As you Okies have probably discovered, orange in large quantities, especially when paired with black, makes you look a lot like a pumpkin/ jack-o-lantern. Or a traffic cone. Or tigers. Or monarch butterflies. Or prisoners. I mean, I get that Orange is the New Black... but c'mon!
Actually, I found out that this was intentional, as your college was originally called the "Princeton of the Plains," and it purposely stole adopted the Tiger mascot and the orange and black colors. I guess it just goes to show you that Oklahoma's history is riddled with people who got where they are today by stealing taking things that weren't theirs.
The whole stealing Tiger colors issue aside, at least with Texas' orange, it was more subtle and nuanced... Your orange is like freakin' neon. It does not look good in large doses (see above). It freaking hurts my eyes to look at that picture. And it's not just because whathisname has a baby face.
Take it from me, 'Poke fans, when it comes to neon orange... less is definitely more. It can be a good accent color when done right... but a primary color...? No. Especially if you're going to complement it with whites and blacks, rather than with blues.
Exhibit A:
So, if Ford is ever in doubt about how to rock a questionable sport coat, he can just ask the expert how to pull off a seemingly ridiculous fashion choice and still look damn fly while doing it.
Mascot "Pistol Pete"
Your mascot (the Cowboys or Cow "Pokes" for those who have been sleeping on the underside of a boulder for 70+ years) is culturally significant but a bit bland. I guess my beef isn't so much with your generic mascot as it is with its living incarnation in the form of Pistol Pete.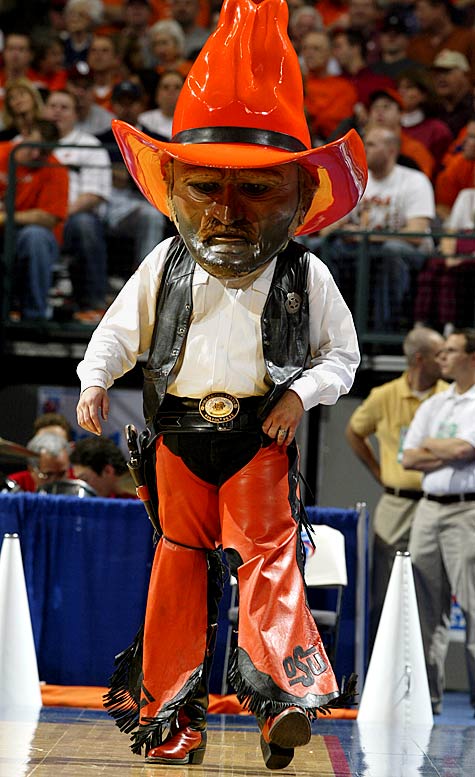 This thing somehow manages to be both psychotically creepy and laugh-out-loud hilarious. Like, he would gun me down in my sleep Nightmare-on-Elm-Street style, but I would be laughing at him the same way I do at K-State's Willie and EcoKat. I don't know if Ok State and K-State were somehow both subjected to the same budget cuts in two different states... but, do you guys need some money for a better mascot costume?
Because Creepy, Disproportionately Big Head + School Logo'ed Outfit does not a mascot make. It is an intimidating ensemble -- which is what you want in a mascot -- but not intimidating in a good way.
Why do your fans want to take pictures with this thing again?? How do children not run out of Gallagher-Iba screaming whenever they see this thing? How did late 19th- / early 20th-century cowboy Pistol Pete gain access to an immaculate white shirt, neon orange chaps, and a plastic, fluorescent cowboy hat? Is he a time-traveller?
These are the important questions that life -- in its brevity -- cannot answer.
Also, I recently discovered that Pistol Pete is not a unique mascot either. There were at least two other Pistol Petes in Division I sports -- at New Mexico State and Wyoming. Granted, they ended up changing their mascots so as not to be confused with yours... but, honestly, who could blame them?
So neither your school colors nor your mascot is unique. Congratulations on stealing "borrowing" everything that makes you "unique," OSU!
(Also, Frank Eaton -- the man Pistol Pete is based on -- was raised in Twin Mound, Kansas... which is in Douglas County... the same county where Lawrence and the University of Kansas is. #TheMoreYouKnow)
O-S-U Arm Letters

Granted, I think it's fair that you guys can spell out your university's initials with your arms. But that "S"?? Since when is 'Walking Like An Egyptian" considered an 'S'? Go back to kindergarten class, Pokies.
Your Infinite Supply of White Three-Point Shooters
I'm sure this is something you guys run into with Kansas players all the time, as well. First it was Brady Morningstar. Then it was Conner Teahan. Then it was Conner Frankamp. Now it's Svi I'm not even going to try to spell his full name.
But, I'm telling you, Ok State seems to have a bottomless pit of these dudes. I honestly thought Keiton Page was in his 20th season at OSU... But, no, turns out he found a way to reincarnate himself -- or at least transfer his three-point shooting consciousness -- into the body of Phil Forte III.
Sadly, for us, though, Forte is only a junior. Which means we will have at least one more season of this nondescript sharp-shooter before he's reincarnated into another one just like him. Is Oklahoma State the testing grounds for the Cylon army or what?
If I had to compare it to anything, I would say... It's like the dwarves in the Hobbit movies. I know there's a difference, but I honestly can't see it. And, quite frankly, I don't think The Powers That Be want us or expect us to see it.
Coach Whatshisface Travis Ford
Ford is one of those coaches whose face I remember, but whose name I constantly forget. Just goes to show you what his reputation is like around the Big 12. As recently discussed in our "Who Is The Worst Coach In The Big 12?" article, Ford was ranked eighth out of ten coaches, with an average KenPom rating of 108.92 -- which is the second-worst in the conference, after Trent Johnson. Here are some more comments on his coaching abilities:
Ford... has been better than you'd think at Oklahoma State. Ford has recruited some impressive players to campus, such as LeBryan Nash and Marcus Smart, but has won just one NCAA tournament game at Oklahoma State, in his first season... I think it is pretty easy to make the argument he should have had more success with a trio of him, Nash, and Markel Brown.
But, while Tubby Smith (No. 9/10 on the list) is a respectable coach trying to rebuild a shoddy program, and Bruce Weber (No. 10 on the list) is a shoddy coach trying to maintain a somewhat respectable program -- plus, his angry freakout is effing hilarious -- Ford has a respectable program, and his resume is respectable enough.
I won't underestimate the dude. He can clearly recruit talent to his program. But he doesn't really seem to be able to build on that talent, cultivate four-year star players, and have worthwhile success in conference and/or in post season. Okay, to be fair, no one is really going to have success in conference unless they're sharing their titles with Kansas. But, even so....
Ford should be able to win as much as anybody. And yet, he doesn't. He's just kind of... there. Not to be underestimated, but not to be feared either... Like a really tall 12 year old who's trying to grow facial hair to convince everyone he's really 30. Plus, his baby face doesn't really help either. And it's hard to take him seriously when he's wearing an orange clown jacket half the time (as pictured above).
T. Boone Picken$
Back in 2008, around the time when KU was winning its fifth national championship, your university's owner bigge$t boo$ter thought he could write O$U alumnus and current Kansas coach Bill Self a blank check to return to his alma mater and build OSU into a powerhouse basketball program.
Well, we all know how that turned out.
It also doesn't help that T. Boone Pickens is essentially synonymous with OSU boosters, or vice versa. It's certainly good to have friends in high places. But maybe you should diversify your booster portfolio a little bit, eh? That well's going run dry at some point.
Marcus Smart
Yes, I realize Marcus Smart is no longer a member of your basketball program. I don't care. Between his attitude and his antics, everyone in the Big 12 not named Oklahoma State has a reason to dislike this guy. And... Because a picture is worth a thousand words... and, thus, presumably, a gif is worth at least a hundred, I'm just going to ahead and let these Marcus Smart gifs speak for themselves: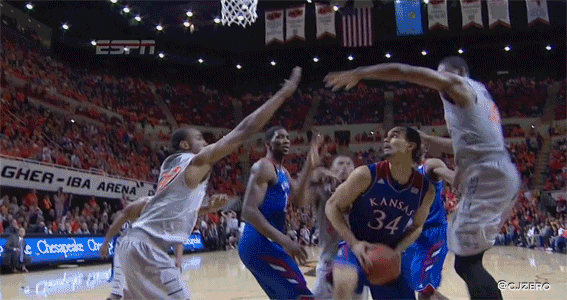 And, of course, let's not forget the infamous back flip...
You Okies may say, "Well, of course, you're jealous. Marcus Smart was a potential KU recruit, and he chose OSU over KU." That may be true for some KU fans, but not for the sTroll. We at RCT are upset with Marcus Smart because -- while he was a talented basketball player -- his attitude was unchecked by his coach and he was allowed to flop, mouth off, and disrespect his opponents on a regular basis. And for that, we dislike and disapprove of him. No KU player would ever disrespect his opponents' home court the way Marcus Smart disrespected ours.
But, whatever, that's all water under the bridge, right? Have fun claiming this guy as one of your basketball program's greatest players:
Yet... despite all these things, we Kansas fans cannot hate Oklahoma State completely...
Why?
Because -- whether willingly or not -- you gave us:
Bill Self

Another famous Okie with the initials G.B.

And the opportunity for the below gif to exist:
Also, on February 7, 2009 -- exactly six years ago -- Kansas hosted Oklahoma State in Allen Fieldhouse and the Jayhawks, of course, won the game 78-67. Why do I remember that so exactly? Because it was my first game in Allen Fieldhouse, and it was my 18th birthday present. So, I have a soft spot for Kansas-Okie State games, because of that experience. That first game in Allen wouldn't have been the same without your team there to lose to my team.
... and for all of that, we sincerely thank you, Ok-State. But, we will also rib you for all of the above things, too. So, prepare yourselves! And may the best team win this weekend.
EDIT: BONUS GIF!!!