Few sports memories stand out in my mind. Sure, I have seen thousands of games, both professional and collegiate, in numerous sports, and have memories from a good majority of them. Still, among these hundreds and hundreds of memories, some good and some bad, few stick out above others.
I will always remember my dad holding me up on his shoulders, allowing me to catch the final glimpse of Pete Stoyanovich's 56 year field goal going in the bottom right-hand corner of the upright, beating the Denver Broncos, capping my first Chiefs memory when I was six.
I will always remember driving from Kansas City to Atlanta for the 2002 Final Four, and the heartbreak and sadness involved with Maryland winning. I remember the 13-2 start we shot off too, and I will always remember how that lead evaporated so quickly, and how hard it was to watch Terrapin fans cheer all around.
I will always remember, just one year later, going through a pretty tough three game stretch. I remember watching the Chiefs-Colts Playoff game of 2003, a game that was tremendously difficult to watch. And just two months later, I watched as the college careers of Kirk Hinrich and Nick Collison ended, as Carmelo Anthony led his Syracuse Orangemen over our Jayhawks in the 2003 National Championship game.
To this day, Hakim Warrick soaring through the air to send Michael Lee's final-chance shot into the second row sticks out in my mind above all other memories. That picture is etched in my memory forever; the long outstretched arm of Hakim Warrick swatting away our final chance at a National Championship. I can't get that image out of my mind.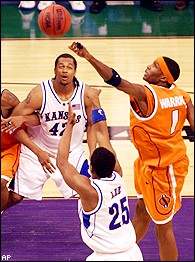 Ugh.
As we trekked our way through the season, with a goal of the Final Four seeming more realistic than any other season since that fateful end to the 2003 campaign, I couldn't get that image out of my head. It is the defining moment of my short sports-watching career, the moment that represents the inevitable failure that ends nearly every season for one of "my teams", year-after-year, without fail. And, as promising as this season seemed, I had trouble believing that we could actually win a Championship. So I made the ultimate goal a Final Four; a return to the basketball version of the Promised Land. I figured that once there, if we even made it that far, we would lose to a superior team.
During this season, an up-then-down-then-up-again adventure, I began to believe that we really could, in fact, win it all. Just maybe, my personal 0fer (none of "my" teams, the Royals Chiefs and Jayhawks football + basketball, have won a National Championship while I have been alive) would end this season, on the backs of this veteran-laden, talent-loaded monster of a college basketball team. But I still needed some more convincing, beyond the 28-3 regular season and Big 12 Tournament Championship. I am a little demanding, and jaded by the lack of championship-quality in my 16 years of life, following my favorite teams.
This weekend in Detroit clinched it for me.
We are going to win the National Championship.
Maybe I am overvaluing just two games, especially considering they weren't even our most impressive of the last month. Far from it, actually. But something about those two games, especially the Elite Eight contest against the Davidson Wildcats, said more to me than the 37 games prior to it. The way we clawed, fought and snuck our way to the Final Four told me more about this team than just about any other game all season long. And in doing so, created a memory that will last in my mind forever.
As I said earlier, very few sports memories actually stick out above the rest. But one that will always stay with me was Jason Richards' last second heave at the basket, a 30-foot desperation shot that would have ended our season in a second. As the ball hung in the air, for what seemed like an hour, all I could do was picture the ball going in the basket. I have been conditioned to expect failure by my favorite teams, for them to choke when the stakes are at their highest. But it didn't happen this time; the 'Hawks came through with a victory when it seemed like it wasn't going to happen. All Tournament long, Stephen Curry has been doing the improbable, draining late-game three-pointers that clinched victories and sent higher-profile teams home packing. But as that shot bounced off the side of the backboard, inches to the left of the rim, I heaved a sigh of relief. We had outlasted this year's George Mason, and had succeeded in our attempt to reach the Final Four.
The Final Four was all I expected from Day One of this season, the true light at the end of the tunnel. But now that we are here, at the Final Four, I feel like we have so much farther to go. This isn't the team I expected to take the court when we opened the season way back in November. That may sound funny, and I haven't heard anybody else say anything close, but this team has a different feeling than any other I have ever followed. The "it" quality jumps off the pages with this team, and as long as we stay angry and pissed off and aggressive, we are nearly unbeatable.
So, despite fulfilling my initial goal, I want more. A lot more. I want two more wins and a National Championship banner. I want the seniors, and everyone else on this team, to win a Championship ring. I want Bill Self to not only shed the "Best Coach Never to Make the Final Four" tag, but to win a National Title no one sees coming. I want this fan base, who is as good as any other in the country despite its fair share of idiots, to celebrate another National Title, 20 years after Danny and the Miracles.
But more importantly, I want a memory to jump to the top of my list and surpass the dreadful Hakim Warrick memory. I need some memorable stuff to happen this weekend in San Antonio, because I am sick of seeing our last shot at a National Championship being swatted away at the very words 'Final Four'.
Bring on Saturday.
ROCK CHALK!